Communicate like a pro
Learn the correct pilot lingo with our interactive software that helps you learn and practice aircraft radiotelephony in a clear and standardised way.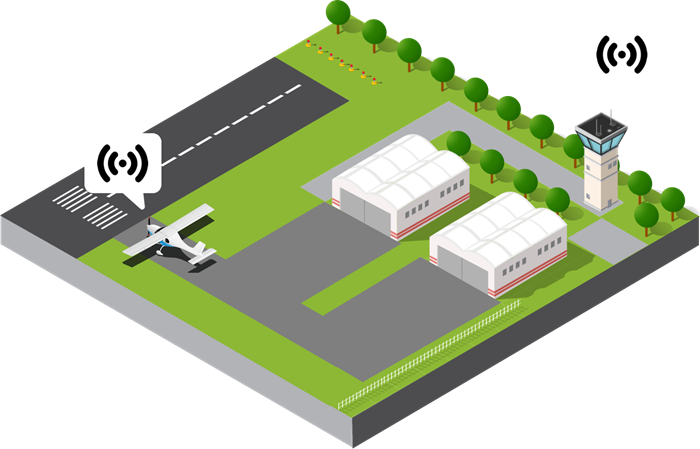 Terrified of using the radio whilst flying?
Wilco Radio helps you learn and practice correct radiotelephony, by communicating with an AI Voice Bot rather than a human being.
Learn faster
Fine-tune your radio skills
Using AI voice to help you communicate with the ground, Wilco Radio is a truly innovative platform to help pilots fine-tune their radiotelephony procedures.
Official Phraseology
Learn clear, concise radiotelephony techniques that comply with the UK Radiotelephony Manual CAP 413.
AI Voice Bots
Practice communications skills with an artificially intelligent bot, rather than a real person.
Scenarios & Procedures
Choose from a wide range of customisable scenarios and procedures to practice your radiotelephony.
Customisable Features
Choose from a range of aircraft and airfields - choose your own aircraft, callsign & departure/destination airfields.
Learn Phraseology
Pilots often shy away from using the radio because they're unfamililiar with the correct phraseology. Make that a thing of the past.
Free 48-hour Trial
Discover what's under the hood with a no-obligation free 48-hour trial to find out how Wilco Radio can fine-tune your radiotelephony.
Banish your jittery nerves
Practice and perfect your radiotelephony procedures with a AI Bot instead of a real human being, so you don't need to feel embarrassed if you get your phraseology wrong.
"I built Wilco Radio because I wanted to get better at using the radio in my EV97 Eurostar. Now I can comfortably deal with any situation on the radio."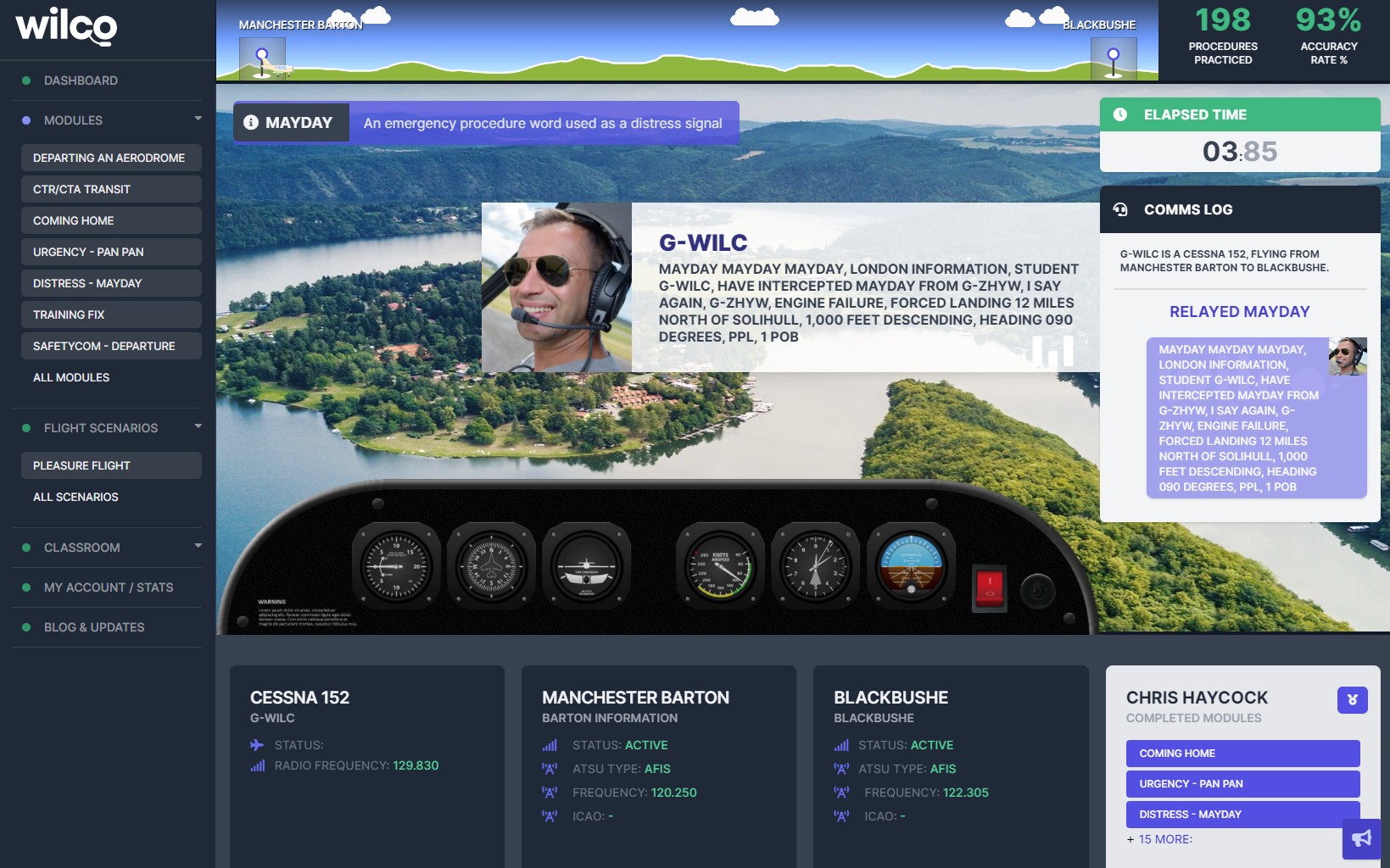 Customise your aircraft, departure and arrival airfields
Go ahead and customise your aircraft and airfields for a truly realistic experience. No two radio procedures need to be the same!
"Stick your wallet away! Give Wilco Radio a whirl with a free 48-hour free trial and discover what it has to offer."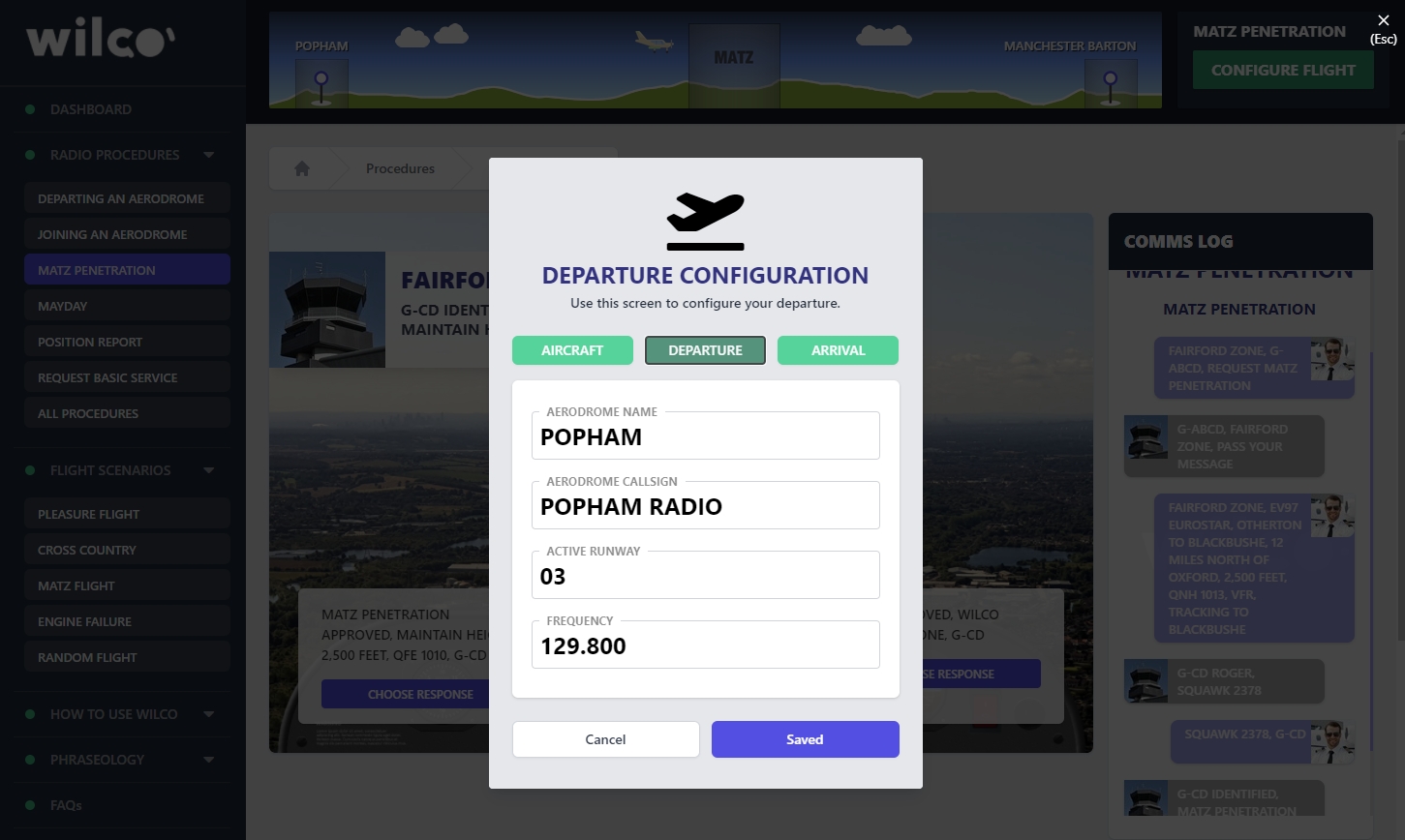 Ready to get started?
Start your free 48-hour trial today.
Got questions?
For pilots, by pilots
Wilco Radio is new. In fact, it's only 45 days old, which means that I'm still busting the bugs, adding new scripts, procedures and scenarios, and getting things ready for our 'proper' launch soon.
Get in touch with the brains behind Wilco Radio - Chris Haycock - if you have any questions.